Posts for tag: cosmetic dentistry
By Woodbridge Periodontal and Implant Center
May 23, 2021
Dorit Kemsley isn't shy. Best known to fans as an outspoken and sometimes outrageous cast member of the reality show Real Housewives of Beverly Hills, Kemsley is never reticent about "mixing it up" with fellow castmates or their significant others. Recently, though, she confessed to something that left her less than confident: her smile.
Kemsley has been self-conscious about her smile because her teeth looked noticeably short, worn down from an unconscious habit of grinding her teeth. Although teeth grinding is more common among children (who normally grow out of it by adolescence), it can persist into adulthood, usually from difficulties managing high stress (a likely component in the fashion designer/reality show star's busy life).
Stress-induced teeth grinding can occur during waking hours or, more likely, during deep sleep. The accumulating, long-term effects from the habit can lead not only to worn teeth but to weakened gum support, a high risk of tooth fracture or jaw pain and dysfunction.
So, how do you know if you grind your teeth, especially if it's only happening at night? Typical signs include sore jaws after awaking from sleep, increased tooth pain or sensitivity or, like Kemsley, a noticeable difference in your tooth length. Your family or sleeping partner may also complain about the "skin-crawling" noise you make during the night.
There are ways to lessen the effects of teeth grinding. The first step is to have us verify the underlying cause for the habit. If it's tension from stress, then you might reduce the habit's occurrences by learning better stress management or relaxation techniques through individual counseling, group support or biofeedback therapy. We can also fit you with a mouth guard to wear at night or through the day that reduces the force generated during teeth grinding.
And if you've already experienced accelerated tooth wear like Kemsley with a resultant "small teeth" smile, you might pursue the same solution as the RHOBH star: dental veneers. These thin, life-like wafers of porcelain are custom-made to mask imperfections like chips, staining, slight tooth gaps and, yes, worn teeth.
Veneers are often less expensive and invasive than other cosmetic techniques, yet they can have a transformative effect, as Kemsley's Instagram followers have seen. In conjunction with other dental treatments needed to repair any underlying damage caused by a grinding habit, veneers are an effective fix for the smile you present to the world.
If you suspect you may have a grinding habit, see us for a complete examination. From there, we'll help you protect your teeth and your smile.
If you would like more information on teeth grinding habits and their effects, please contact us or schedule a consultation. To learn more, read the Dear Doctor magazine article "Teeth Grinding."
By Woodbridge Periodontal and Implant Center
October 06, 2018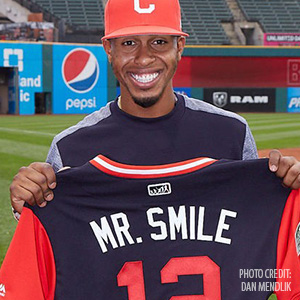 At the first-ever Players Weekend in August 2017, Major League Baseball players wore jerseys with their nicknames on the back. One player — Cleveland Indians shortstop, Francisco Lindor — picked the perfect moniker to express his cheerful, fun-loving nature: "Mr. Smile." And Lindor gave fans plenty to smile about when he belted a 2-run homer into the stands while wearing his new jersey!
Lindor has explained that he believes smiling is an important part of connecting with fans and teammates alike: "I've never been a fan of the guy that makes a great play and then acts like he's done it 10,000 times — smile, man! We've got to enjoy the game."
We think Lindor is right: Smiling is a great way to generate good will. And it feels great too… as long as you have a smile that's healthy, and that looks as good as you want it to. But what if you don't? Here are some things we can do at the dental office to help you enjoy smiling again:
Routine Professional Cleanings & Exams. This is a great place to start on the road toward a healthy, beautiful smile. Even if you are conscientious about brushing and flossing at home, you won't be able to remove all of the disease-causing dental plaque that can hide beneath the gum line, especially if it has hardened into tartar, but we can do it easily in the office. Then, after a thorough dental exam, we can identify any problems that may be affecting your ability to smile freely, such as tooth decay, gum disease, or cosmetic dental issues.
Cosmetic Dental Treatments. If your oral health is good but your smile is not as bright as you'd like it to be, we can discuss a number of cosmetic dental treatments that can help. These range from conservative procedures such as professional teeth whitening and bonding to more dramatic procedures like porcelain veneers or crowns.
Tooth Replacement. Many people hide their smiles because they are embarrassed by a gap from a missing tooth. That's a shame, because there are several excellent tooth-replacement options in a variety of price ranges. These include partial and full dentures, bridgework, and dental implants. So don't let a missing tooth stop you from being Mr. (or Ms.) Smile!
If you'd like more information about oral health or cosmetic dentistry, please contact us or schedule an appointment for a consultation. You can also learn more by reading the Dear Doctor magazine articles "Beautiful Smiles by Design" and "The Impact of a Smile Makeover."